Hotel Promotion On A Taxi
Jurys Inn – Sheffield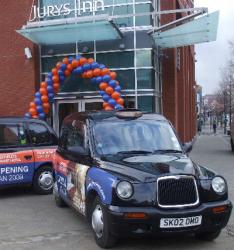 Jurys Inn is one of the fastest growing hotel chains in the UK. In this current economic environment their offering of high quality, value for money makes perfect commercial sense. The Sheffield hotel is the first to feature their new interior styling.
As part of their significant outdoor campaign, taxis have played a major part in extending the campaign beyond the "opening". The hotel chain booked a fleet of 15 taxis with supasides, seats and rear windows to operate in the city centre for an initial three month period. The combination of the exterior and interior advertising offers the perfect way of achieving visibility in the city centre, but also the added benefit of reaching the taxi user as they sit in the taxi for on average 15 minutes.
Don't forget the value of the taxi driver. With direct access to c60 customers per day, they are in effect an extension to the advertising campaign in offering customers advice on where to stay.
Sheffield has a fleet of over 300 taxis, and is one of the fastest growing cities in the UK. Taxis operate from the Mainline Station and from a series of ranks within the city centre.