Richard Knight and Focal Point Advertising celebrate 25 years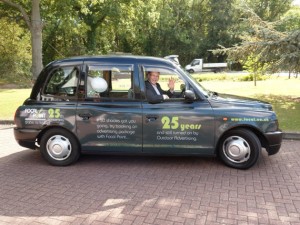 Richard Knight and Focal Point Advertising celebrate 25 years of supplying advertising solutions to all types of businesses – large and small – across the UK.
From small beginnings in 1987 where the business started selling graphic adverts on TV screens sited at point of sale in convenience stores to now supplying over 50 services in the outdoor and out of home industry. Back in 1987 selling graphic ads, Richard was heard to say on numerous occasions, "this time next week Rodney… You fill in the rest. Graphic ads were new and exciting and basic! As you can imagine technology was very basic compared to what it is today. The problem was that the company that backed Focal Points activities went down the pan in 1989 owing several million, and left Richard and his then business partner Barry wondering what to do, and fortunately a customer they had sold to- Alder Valley Bus Company – asked if Focal Point wanted to sell some 4 sheet poster space and Guildford and Aldershot Bus stations. "What is a 4 sheet", Richard said.
Anyway a rapid learning curve over a short period of time taught Richard and Barry all they needed to know about the "outdoor" advertising industry as it was then. There were literally a handful of opportunities back in 1989 and in the last few years that handful of advertising opportunities has grown to over 50 with around 500 suppliers and Focal Point have grown as the industry has grown, and are now able to offer a comprehensive "one stop shop" solution to anything that comes under the "outdoor" and "Out of home" sector. This could be traditional forms of advertising such as billboards, bus shelters, taxis, stations and the London Underground to some more non-traditional forms of advertising such as sandwich bags, beermats, washroom posters, petrol pump nozzles and some very innovative solutions.
So if you are looking for some ideas to help you promote your business, why not give Richard a call. You know he has the experience and you know he will have a solution to help you. He can be contacted on 01256 767837 or by email on richard@focal.co.uk