Taxi Advertising Package for Village Hotels
Village Hotels – Farnborough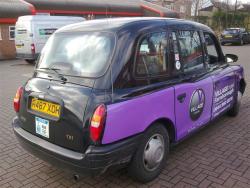 The Village Hotel opening in Farnborough in March is the most recent of the company's plans in 2009, Solihull and Bristol will follow later in the year.
The Village offers a combination of superb business and leisure facilities in a contemporary environment, and at excellent prices. Their taxi advertising package consist of a series of taxis running around Farnborough and Aldershot town centres, with a series of different supaside advertisements, featuring the various hotel offerings, including the gymnasium, restaurant and business offerings.
The good news for the client is that in Rushmoor a relatively small quantity of taxis will be ideal in giving excellent city centre coverage.
There are in the region of 100 taxis serving the Farnborough/Aldershot region. The town is home to many large companies, and taxis have long been part of the advertising scene.